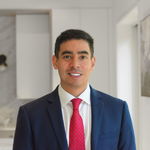 Steven R.B. Chen
REALTOR®
A little bit about me...
Steven was born and raised in Potomac, MD and moved to Pennsylvania in 2007 to obtain his business degree. In 2011, Steven moved back home to begin his career in commercial construction, building some of the largest mixed-used developments in the DC market. In 2015 has begun investing in residential real estate; purchasing multiple rental properties in Maryland. In 2021, The American Subcontractor Association named Steven Project Manager of the Year. His unique background in construction management and education (engineering and marketing), allowed for a natural transition into real estate sales and allowed him to join with one of the top sales teams in Washington, DC's extremely competitive real estate market.
Steven currently lives in Arlington, VA with his Wife Christina, and Dog Ollie. When he's not working with clients, he is hitting the links practicing his golf game or trying new restaurants around town.